I began my painting career way back in 1972 whilst still at high school, working even then with oils and canvas as my preferred medium, and selling most of my work to my parents (at first), and then to friends and acquaintances of my family & friends. Even with this encouragement the need to earn an income to support myself through life, and my general motivation to build stuff, steered me towards a primary career in Architecture and Design.

Contemplating the next phase of my existence on this amazing planet, I find myself revisiting this purely artistic need of mine to apply brush to canvas, to record some of what I see and imagine.

My studio is based in the beautiful City of Cape Town, South Africa, and I am married to Penny (also a creative spirit), with one free spirited & amazing daughter.
B I O
B I O
B.A. Honours degree from Middlesex University in London - (previously Hornsey College of Art & Design).
The HCA was "an iconic British art institution, renowned for its experimental and progressive approach to art and design education".
A R T E D U C A T I O N
S T A T E M E N T
I paint primarily in oils on linen canvas.
My style is not limited, and although my work is realistic in nature, I do also move to impressionistic work as the mood takes me.
The main body of my figurative work could be described as narrative realism.
As with many artists I would hope that viewers are moved enough to interpret my paintings with a direct connection to their own life experience.
In addition to being inspired by a number of the old masters, more contemporary artists that I appreciate include John Singer Sargent, Bo Bartlett, Andrew Wyeth, Odd Nerdrum, Knut Andre Vikshaland, Vincent Desiderio and Antonio Lopez Garcia.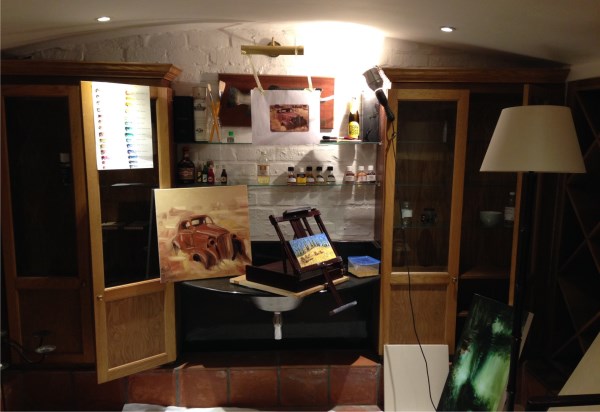 A L A N W E I S S F I N E A R T I S T ( O I L S O N L I N E N / C A N V A S )
O R I G I N A L F I G U R A T I V E A R T; L A N D S C A P E S & W I L D L I F E
S T Y L E : N A R R A T I V E I M P R E S S I O N I S M; R E A L I S M
F A V O R I T E Q U O T E
"Great artists suggest possibilities. They don't answer the question, ever.
Joe Pro will give you the answer.
My favorite artists are those that suggest the answer, because they know that there is no answer". Vincent Desiderio